We will feature top level middle school prospects here - email me at kennykallina@gmail.com to be featured!
5 Star Future Stars is going to be a section where I add kids periodically who are some of the future stars of the game. It wont be a large section but keep an eye on these faces because they could be the next leaders of the game.
McKenna Beach 5-6 G 2015 - Fort Myers, Fl (April 27, 2011)
Very rarely do you come across a system team that is good in the south. Usually speedy pressing teams dominate competition but with McKenna Beach at the point the Florida Vision have become the top 8th grade team in the state of Florida.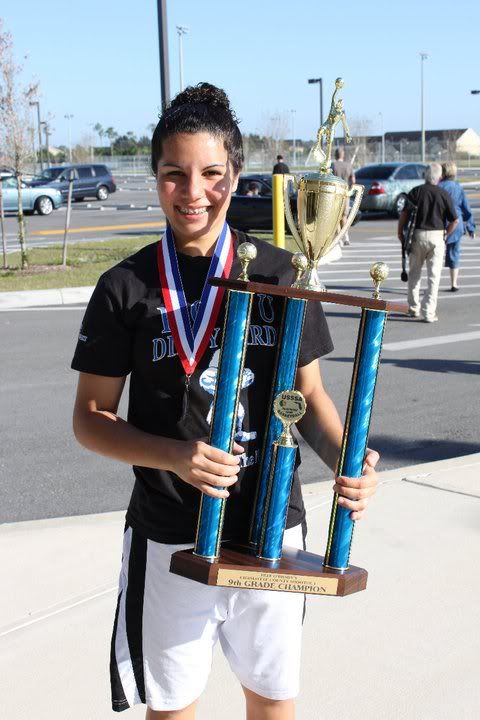 Any time basketball analyst "Basketball" Bob Corwin says a kid is good you better pay attention. Corwin who spent more than 20 years covering grassroots basketball in the state told me that McKenna Beach is one of the top 5 8th grade point guards he had ever seen coming out of the Sunshine State, a state which has produced All Americans in college backcourts.
Beach's savvy with the ball along with strong handles, ability to create for her teammates and knowledge of the game makes her a match up problem almost at every level. The true definition of a point guard, Beach finds open members of her team with ease. Beach also is an excellant rebounder and very strong guard so pressing her or physical play rarely causes her problems.
Beach is for sure a 5 Star Future Star from the Sunshine State. While Beach is a talented basketball player and probably the top point guard prospect in the South, her club coach Jerry Ellis continues to insist how important academics are to Beach and her teammates and maybe you might be seeing several of them in the Ivy League with time or the doctors office. Ellis a former Men's College coach turned college professor certainly has put together a team you see very rarely in the south especially at their age.
While the team is very good, Beach is special so make sure to check her out at an AAU tournament near you.
Jalaysha Thomas 6-1 PF 2017 - Ocala, Fl (April 24, 2011)
Jalaysha Thomas I had the opportunity to see for the first time this weekend in Jacksonville at the Coast 2 Coast Super Regional Tournament.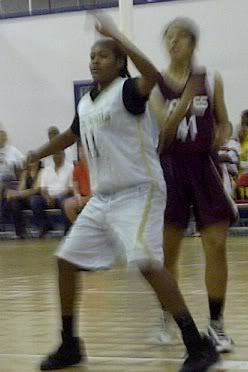 I saw Jalaysha for the first time and I was thinking to myself if that kid is in 9th grade she has a heck of a basketball build to be a great player, once I asked her what grade she was in and she said 6th it took me back in time to when I started watching girl's basketball close to 10 years ago where I went to Lakeland, Fl to see Erlana Larkins, a 7th grader at the time win her first of 6 FHSAA Basketball titles over a 8 year career at the Bejamin School. Larkins was from West Palm Beach and headed to Chapel Hill, in talking with Jalaysha's mom she said University of Florida Coach Amanda Butler who is less then an hour from their Ocala home has already expressed interest in Jalaysha. While many of the Jacksonville Lady Rams players are already committed it is no lock that Thomas will attend UNC Chapel Hill.
As for on the floor the Jacksonville Lady Rams play a pressing style defense which is 94 feet of the court while you think a player 6-1 in the 6th grade wouldn't have much impact in that type of system you'd be dead wrong with Jalaysha Thomas. Thomas is on the top of the press denying the ball, handling the ball on the break, and finishing around the basket. Thomas's great hands, touch, and ability to run the floor make her a possible cant miss prospect at the next level. Thomas has a great build for the game, is in good shape, and plays pretty hard for being so young. In reality this kid is someone who'd sign a Division I scholarship if she was a senior in high school this year.
At 6-1 Thomas does a lot of her damage around the basket currently to be like Erlana she will have to evolve in her game and do some things like knock down shots on the perimeter to become what she could be. Jessica Dickson was one of the first greats out of Ocala who headed to USF, now Shavontae Naylor who relocated to Atlanta was also from Ocala and what is scary is that Thomas at a younger age shows as much or more promise then either of the two greatest players the city has ever known.
Keep an eye on Jalaysha Thomas on the national scene and in the recruiting game because there arnt many of her out there.